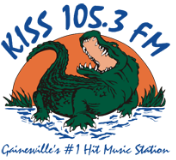 If you live in Gainesville and have ever listened to the radio on the way to school, work or running errands you've heard of Kiss 105. They play pop music throughout the day and are even known for some of their on-air contests such as Secret Sound.
Commercial breaks are littered with local business ads and you've probably heard dozens of Gainesville CoolSculpting company ads as of the time of this writing.
Who is Kiss 105.3?
WYKS-FM aka Kiss 105 makes the claim of Gainesville's #1 Hit Music Station and according to Nielsen, that checks out. However, they're the #8 overall radio station in Gainesville but just happened to be the first pop music station.
Kiss 105.3 Advertising Rates
They don't publicly disclose their advertising rates and rightfully so. There's a big difference from someone who wants a couple 15 second ads to run every day vs a company looking to advertise their business every hour on the hour.
Unfortunately, these rates are locked behind a contact form requiring you to contact them. There's likely enough ad space to easily fulfill a budget of thousands of dollars a month though depending on what you're looking for.
Advertise with Kiss 105.3 or Someone Else?
To answer this question, you must understand your target audience. Who is your customer and what radio station (if any) are they most likely to listen to? Remember, while Kiss 105 is the #1 pop music station, there are seven radio stations in Gainesville that are ranked higher that may be a better match.
Alternatively, streaming options such as Spotify, Pandora, iHeart Radio and more offer options to reach all kinds of audiences and can also be geo-targeted to your area too. It's worth looking into these options as well.
Is advertising on the radio worth it?
Every industry and market is different. Whether or not you think your business should be advertising with Kiss 105.3 or other Gainesville radio stations is not something a blanket statement. There's a number of things that need to be considered:
Customer Acquisition or Branding? Depending on which type of advertising you're doing could greatly impact the decision of whether you advertise on the radio.
Metrics. Regardless of your cause, are you setup to track metrics. Such as special landing pages, radio only phone numbers, special offers, etc. You want to know if the ad is driving business if you're going after customer acquisition. If brand recognition, do benchmark studies to see if your brand recognition is growing.
Alternative Advertising Channels. Are you already exhausting other channels such as SEO, Google Ads and Social Media where you get both types of advertising with customer acquisition and branding?
At Gator SEM, we're here to help and able to review your business goals for 2020 and see if radio advertising is a good fit for your goals. We offer a free 30 minute consultation and can assist with local SEO, PPC and other digital marketing services.